ACCESS TO DRINKING WATER IN LATIN AMERICA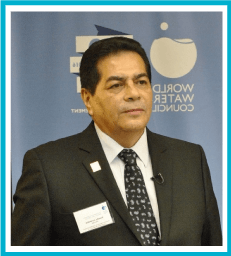 Roberto Olivares. He is a Civil Engineer with experience in legislation, trade association, public services, and senior management. Since 1991, he has been professionally linked to the water sector, at the national, regional, and global levels.
Within his outstanding experience, his participation in the Board of Directors of the Mexican Hydraulic Association (Consejo Directivo de la Asociacion Mexicana de Hidraulica), (AMH) for three periods can be highlighted. He was Chairman of SEP Water Sector Competency Management Committee and the Valle de Mexico Basin Council (CCVM). He served as General Director of the National Association of Water and Sanitation Companies of Mexico (Asociación Nacional de Empresas de Agua y Saneamiento de México), (ANEAS). He was a member of the working group to create the High-Level Panel on Water of the UN and the World Bank. In December 2018, they distinguished him as an Honorary Governor of the World Water Council (WWC). He served as Vice President of the Mexican National Committee of the UNESCO International Hydrological Program (CONAMEXPHI).
Currently, Roberto Olivares is President of the Latin America Network of Basin Organizations (RELOC), he is a consultant for the Organization of American States (OAS) heading the Binational Regional Framework Project for Sustainable Use of the Rio Bravo. He is a member of the Advisory Council of the UNESCO Chair in Water Security at Florida International University (FIU). He is the representative of ALADYR in Mexico, among other important and recognized organizations.